Unit 4 – Division/Alliance Level
Being a Connected Educator…Technology within a Division
I was enthused to see you interviewed Bart Cote this week.  I have discussed how being a Connected Educator has impacted my teaching
pedagogy and the integration of technology within my classroom in many of my blog posts this term.  The Connected Educator program has completely revolutionized my educational teaching experience.  Learning about why we use technology and how to implement it in a meaningful way has enhanced my own beliefs surrounding education.
Because I was part of the original Connected Educator group, I have taken on several different mentorship roles and also the Tech. leadership role within the school and the division because of my experience with the program.  I have encouraged reluctant teachers to "dip their toes" into the SAMR pool and try some new tools to enhance their student learning.  Our division has done so many great things and taken on so many initiatives that focus on pedagogy and providing a variety of teacher professional development opportunities to train educators on how to best utilize technology within their classroom.
As Bart mentioned, the application process to get into the Connected Educator program is not an easy one.  A teacher is expected to review and reflect on their current practice and pedagogy as it relates to technology in the classroom.  We are asked to complete several self-evaluations including evidence of our attempts (both successful and not) to integrate technology into the classroom.  This process can be quite daunting and intimidating for teachers, however it ensures those who are dedicated to this process are those who apply.  I remember when I first had to evaluate myself on the SAMR model!  I was completely overwhelmed and needed a lot of reassurance and encouragement from my "Tech Coach".  A Tech coach is an individual who is assigned to your school to support teacher's tech integration.  These people are amazing and super supportive.  It was through her initial mentorship that I began to build confidence and recognize how my current teaching strategies align with those within the SAMR model.  Though I appreciated the SAMR video provided in this week's lecture, the following video was the made the most sense to me in the beginning.
The swimming pool analogy that Bart was mentioning in his discussion makes the most sense to me.  When a person is swimming, you cannot alway stay in the deep end, or else you will tire out.  We need to take advantage of the entire swimming pool.  This will ensure students are getting the most out of their technological experience.  SAMR is not about ensuring we are always Redefining what we are doing,
but rather that we are taking advantage of it when it makes sense in our classroom.  Just the other day I was working with a teacher that was new to the Connected Educator program.  I assured her that we would certainly be diving into the deep end together, however I would be her floatie and keep her head above water!  The pool analogy definitely makes sense!
But, what does this have to do with technological leadership in the division level?  Well being familiar with not only the SAMR model, but also the ISTE standards has ensured  that I am using technology in a meaningful way.  Being a Connected Educator has ensured I am well-versed in these areas and therefore can support my fellow staff members as well.  For those of you that are not familiar with them, the ISTE standards provide guidelines for integrating technology within the 21st century classroom.  They challenge the teacher to re-think her teaching practices and re-work her own teaching pedagogy to include more global ways to teaching students.  There are also ISTE standards for students that can be used to empower students and create an environment that is student-driven.
This short video will give you a good insight into what the standards and and how they can be used in your classroom.
The video and discussion surrounding what the Sun West School Division is doing is absolutely remarkable and ties nicely into the ISTE standards.  The Sun West School Division, however, uses their own acronym: PeBL.  This model is impressive.  Seeing the students take their learning into their own hands and a division taking the concept of personalized learning and marrying it with digital integration just makes sense.  The problem so many teachers face with personalized learning is how to get around to all the different groups and monitor student
progress.  From what I can see from these resources, it appears a lot is put onto the students to track, mentor each other, and follow their learning outcomes independently.  I do not doubt there is a lot of scaffolding that takes place, however the learning outcomes and student engagement improvement would be well worth it!  Students take great pride in learning for themselves and taking their learning into their own hands.  I know from the few inquiry-based assignments I have attempted, the pride and effort students showcase through their work is proof enough to demonstrate the importance of these types of learning opportunities.  I would love to visit this school division and see first-hand how these strategies are implemented and how the students manage it all.
During the podcast with Dr. Guy Tetrault, he mentioned an elderly lady finally completing her grade twelve through his online distance learning program.  Previously this would not have been attainable, however technology has granted this to happen.  I have experienced students reaching learning goals with the aid of technology.  Students creating stories with dictation software or reading grade level texts with reading software allows students the opportunity to overcome obstacles that previously held them back.  We are now able to use technology to narrow the learning gap of so many people, because of the advancements it offers.
After looking at the images from this week's assignment, I was drawn to Image 1.  I remember seeing this graphic when I read George Couros'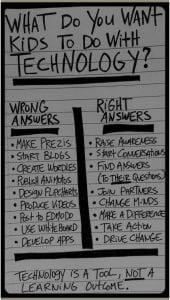 "Innovator's Mindset".  Being in a classroom with technology does not mean that you suddenly have a very expensive pencil.  It is not about using tools to replace the previous tools you were using.  Technology is about flattening the walls and bringing new opportunities to your students.  As this table clearly illustrates, it is about empowering students, just like the Sun West School Division does.  Sure the tools can make learning a lot of fun and can add new aspects to your teaching and learning, however you need to take your technology integration to a level where students are not only creating, but collaborating and connecting with the world around them.
How can you use technology to enhance your students' learning outcomes?  How can technology aid your students critical and creative thinking skills?